Family – it's the heart of our lives, the people who know us best, and the ones who drive us a little crazy sometimes. But have you ever stopped to think, what is family and why is family important?
Families, when healthy and harmonious, can indeed be a source of strength and support that can significantly enhance one's quality of life.
A stable and nurturing family environment can serve as a lifeline, providing emotional, psychological, and even physical well-being benefits. Come with us as we explore the different types of family that exist today, from the traditional to the not-so-traditional.
And then, we will tackle the big question: what is an ideal family? Hint: it's not about being perfect; it's about something much more meaningful.
So, we are not only going to explore the various facets of family, but we will also delve deeper into the characteristics and dynamics that make a family healthy and stress-free.
What is a Family?
Think of a family like your very own team. It's a group of people who are connected in special ways. Some families are made because of marriage, some because of shared blood, and others through adoption.
At the simplest level, a family can be just a grown-up and their kids. But most of the time, it's two grown-ups, usually a man and a woman who are married.
The concept of what is family is important to understand. What constitutes a family varies, but it typically involves people who are connected in special ways, like shared blood or marriage.
Characteristics of a family include providing emotional and psychological security and establishing ground rules for sexual conduct and romantic relationships in society.
The functions of a family are numerous. It serves as a source of emotional support and security, teaching how to be good people, and creating a safety net when someone is in need.
When someone in the family gets sick or can't take care of themselves, the rest of the family steps in to help out. It's like a safety net, making sure everyone's okay.
One great way to understand what is family and what is family relationship is through the movie "Finding Nemo." This animated film, created by Pixar, tells the story of a clownfish named Marlin and his adventurous journey to find his lost son.
"Finding Nemo" beautifully illustrates the depth of a parent's love and the lengths they'll go to protect and reunite with their child. Showing us why is family important.
It's a touching example of how family can be a source of strength, resilience, and unwavering support in our lives. It shows the functions of a family in a funny and creative way.
Therefore understanding what is family relationship helps us to cherish and value the people in our lives. One thing you should remember regarding what constitutes a family is that it is more about bonding than blood relations.
Why is Family Important?
Family plays a pivotal role in improving the overall well-being of individuals.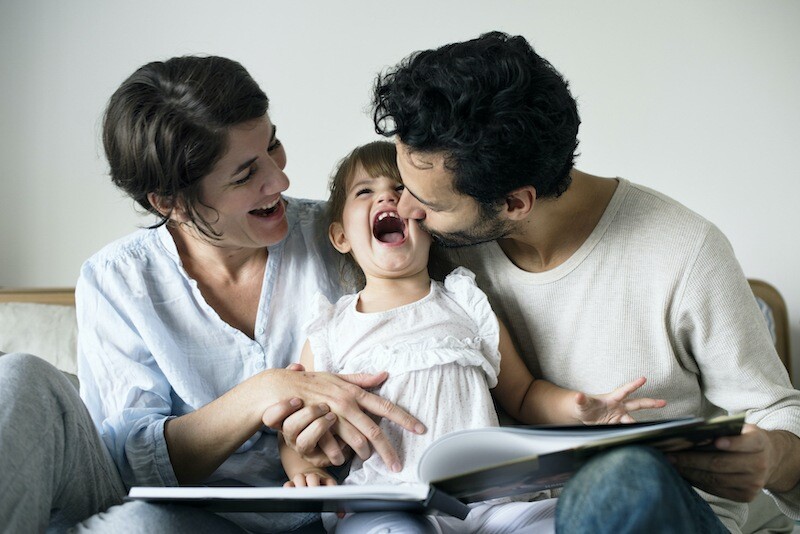 A study conducted revealed that valuing family and fostering strong bonds positively influenced people's health throughout their lives. It shows how the characteristics of a family shape the characteristics and ideology of a person.
The following are some of the reasons why family is important in our lives:
1. Well-Being of the Members
In our journey through life, family stands as the cornerstone of our success and happiness. It is not an overstatement to emphasize the pivotal role that family plays in shaping our well-rounded well-being.
A study was conducted on a remarkable 70-year exploration, tracking the lives of 268 students. Their mental and physical health, along with their achievements and challenges, were meticulously analyzed.
The study showed that having love and healthy relationships are important characteristics of a family. And is crucial for a happy and successful life.
2. Future Connections
Human beings are inherently social creatures, wired to form strong bonds and thrive in meaningful relationships. Family relationships serve as the bedrock upon which our future connections are built.
Children forge profound connections with their parents, shaping not only their self-perception but also their perception of others.
Strong parent-child relationships are the bedrock of a child's emotional security. These early bonds, influenced by the unique characteristics of a family, create a sense of safety and shape the worldview of the child.
The quality of these initial connections plays a pivotal role not only in childhood but also in a child's ability to form and maintain relationships in adulthood.
3. Nurturing Brain Development
Looking after the development of your child is the defining part of what is family relationship.
Family plays a big role in how a child's brain grows, especially when they are young. These initial experiences lay the foundation for behavior, learning, and overall health.
The stronger the foundation, the more resilient and robust the structure. This is precisely where the concept of family comes into play.
A stable, nurturing, and responsive family environment, coupled with positive parenting, provides a strong basis for the cognitive development of our children. It lays the groundwork for improved emotional regulation, equipping children with the ability to understand and manage their emotions effectively
4. Influence in Adulthood
As we journey into adulthood, the lasting influence of our families continues to shape our lives.
A study conducted by Indiana State University sought to understand how life satisfaction evolves across various stages of adulthood, ranging from early adulthood to late adulthood.
Read More: How Emotionally Immature Parents Can Affect Your Adult Life
The study demonstrates that a thriving family life consistently correlates with high levels of life satisfaction at every stage. It reaffirms that the bonds we share with our families, cultivated over years of love, support, and shared experiences, remain a steady source of joy in our lives.
Different Types of Family
Families, as you have experienced, can come in different shapes and sizes. The fascinating thing is that every single one of these family structures is entirely unique and has unique functions of a family.
Family types have evolved over the years, mirroring the shifts in our society's values and acceptance of different structural arrangements. However, the concept of what is family has remained the same.
Read More: 7 Types Of Family Dynamics And Its Impact On Mental Health
Understanding the types of family helps us understand what is family relationship and how the functions of a family differ from another. The types of families are as follows:
1. Nuclear Family
A nuclear family consists of two parents (a mother and a father) and their biological or adopted children living together in one household.
An excellent example of a nuclear family can be found in the movie "The Incredibles." In this animated film by Pixar, you have Mr. Incredible and Elastigirl, who are the parents, along with their three children.
Each family member possesses unique superpowers, adding a fun twist to their dynamic while highlighting the essence of a typical nuclear family.
2. Extended Family
An extended family includes additional relatives beyond the nuclear family, such as grandparents, aunts, uncles, cousins, and sometimes even multiple generations living together or in close proximity.
An example of an extended family can be found in the movie "My Big Fat Greek Wedding." The film revolves around Toula Portokalos, a Greek-American woman, and her extensive and lively Greek family. The movie also gives us an understanding of what is family relationship.
The movie also gives us a thought-provoking conclusion which says that asking, 'What is an ideal family?' is completely wrong. This is mostly because there is no one size fits all.
The film humorously portrays the close-knit nature of an extended family, highlighting the cultural traditions and how they affect the functions of a family. It shows how support and sometimes comical interference that can come with such a family structure.
3. Single-Parent Family
A single-parent family completely redefines the concept of what is family. In a single-parent family, one parent takes care of the kids without the other parent around.
This can happen because of things like divorce, separation, or when a spouse passes away.
In the film "Finding Nemo", Marlin, a clownfish, becomes a single parent after losing his wife and most of their eggs in a tragic incident. He raises his only surviving child, Nemo, on his own.
In these families, it's all about the resilience, strength, and unwavering love of that solo parent. They shoulder the responsibilities, provide emotional support, and juggle everyday challenges with remarkable grace.
Solo parents show us what is an ideal family and redefine what constitutes a family.
4. Blended Family
Think of a blended family as two separate entities coming together to form a single unit. This happens when one or both parents have kids from before and decide to become one big family.
It redefines the traditional concept of what constitutes a family and shows us that the concept of, 'what is family' has changed over time.
A classic example of a blended family can be found in the beloved fairy tale "Cinderella." In this timeless story, Cinderella's mother passes away, leaving her father to raise her.
Later, he remarries, and Cinderella gains not only a stepmother but also two stepsisters. This tale beautifully illustrates the concept of a blended family, where Cinderella's life is transformed as new relationships form within her household.
It shows us the consequences of remarriage of parents. It takes on a blunt approach on the adverse mental health effects of the child.
While "Cinderella" is a fairy tale with a magical ending, it sheds light on the real-world issues and emotions that children in blended families may encounter. It's a reminder for us to be sensitive to the feelings and experiences of children.
5. Childless Family
Childless families are partnerships where two people either can't or don't want to have children.
It's essential to remember that a family can exist without kids, even though traditional ideas are used to link adulthood with marriage and parenthood. Nowadays, more people are choosing to delay having children or decide not to have them at all.
There are also couples who prefer a child-free lifestyle because it suits their personal goals and choices. These couples can be made up of husband and wife, husband and husband, wife and wife, or partners.
Just like in the movie "Up," where the main characters Carl and Ellie build a beautiful life together even though they can't have children.
In "Up," Carl and Ellie's deep love and adventures show us that family is not always about having children; it's about the love and connection you share with the people you care about most.
6. Grandparent Family
The grandparent family is a unique type that sometimes doesn't get as much attention as it deserves. Despite having similar characteristics of a family as seen in other cases, it has a completely different concept of what constitutes a family.
While it may not be the most common family setup, studies show that grandparent-headed families are on the rise. Approximately 2.4 million grandparents in the United States are raising 4.5 million children.
It's worth noting that this family structure exists across different socioeconomic backgrounds, whether the grandparents are wealthy, poor, or middle-class.
"Little Miss Sunshine (2006)" brilliantly captures the essence of family dynamics, including the special bond between Olive, the youngest member of the Hoover family, and her grumpy yet endearing grandfather.
Her relationship with her grandfather, though initially characterized by grumpiness, evolves into one of the most unforgettable and touching aspects of the film.
Tapestry of Family
As we unravel the intricacies of family, we uncover a tapestry woven with threads of love, connection, and resilience. Families, in all their diverse forms, are the cornerstone of our lives.
Whether a nuclear family, an extended clan, a single-parent household, a blended ensemble, a childless partnership, or a grandparent-headed unit, they all share a common thread—the binding force of love.
So, what is an ideal family? It's not about conforming to a singular mold; it's about crafting a unique family story filled with love, respect, and acceptance. Our understanding of what is family relationship evolves as we cherish the bonds we forge.
Cherish your family, whatever form it may take, for it is a masterpiece in the making, a work of art that transcends time and space!
Frequently Asked Questions (FAQ)
1. What is meant by nuclear family?
A nuclear family refers to a family unit consisting of parents and their children, living together in the same household. Typically, a nuclear family consists of a married or cohabiting couple and their biological or adopted children.
2. What is considered an immediate family member?
An immediate family member typically refers to a person's closest relatives, usually those who live in the same household or are closely related by blood, marriage, or adoption. However, the definition may vary based on cultural and legal contexts.
3. What is family relationship?
Family relationships encompass the intricate bonds within a family unit, including parent-child, sibling, and extended family connections. These relationships are characterized by love, care, and support, shaping individuals' lives and identities.
4. What is a Family?
A family is a group of individuals connected through shared blood, marriage, or strong emotional bonds. It includes various types, from nuclear and extended families to single-parent, blended, childless, and grandparent-headed families.
5. What is an ideal Family?
An ideal family prioritizes love, respect, and strong interpersonal bonds over a specific structure. It provides a safe, nurturing environment where individuals feel valued and understood.
---