Family is where we create our earliest and most powerful emotional memories, and those memories stick with us. Good family relationships can make everyone feel loved and safe.
One of the best things parents can do for their kids is to create a loving and supportive environment that helps them become happy and successful adults.
From the heartwarming laughs that fill our days to the tricky situations that put our patience to the test, family relationships are like the sturdy foundation of our life's adventure.
Now, let's go ahead and learn more about family relationships, starting with the basics like what is the family relationship.
What is the family relationship?
A family relationship encompasses the deep connections and interactions between individuals who share emotional ties, kinship bonds, and a sense of belonging.
It extends beyond biological connections to encompass emotional support, shared experiences, and a mutual journey through life's ups and downs.
Family relationships come in various forms, including parent-child, sibling, grandparent, and extended family connections.
These relationships play a crucial role in shaping our identities, values, and perspectives.
They offer a safe space for emotional expression, understanding, and personal growth. Family relationships provide a sense of unity, a place where individuals can celebrate achievements, navigate challenges, and build lasting memories together.
Types of family relationships
Psychologists classify family relationships into two main groups:
Immediate Family Relationships And Extended Family Relationships
Each type of family relationship, whether immediate or extended, adds its special color to the painting of family relationships.
1. Immediate Family:
These are the relatives you live with and interact with on a daily basis. They are the closest members of your family and include:
Parents: Your mother and father.
Siblings: Your brothers and sisters.
Spouse: Your husband or wife.
Children: Your sons and daughters.
Immediate family members are the people you share your personal life with, and you have the most frequent and intimate interactions with them. They play a central role in your daily routines and experiences.
2. Extended Family:
This category encompasses a broader range of relatives who, although not part of your immediate household, are still significant members of your family. It includes:
Grandparents: Your parents' parents.
Cousins: The children of your aunts and uncles.
Aunts and Uncles: Your parents' siblings.
Nephews and Nieces: The children of your siblings.
In-laws: Family members related to you through marriage, like your spouse's parents or siblings.
Stepfamily Members: People who become part of your family through a parent's remarriage.
While not as physically close or involved in your day-to-day life as immediate family, extended family members still hold significant places in family dynamics and relationships.
They contribute to the broader network of support and connections within your family.
Read more here: What Is Helicopter Parenting?
These diverse types of family relationships collectively contribute to the formation of our lifestyle, shaping our identity, values, and emotional connections.
Why are family relationships important?
Family relationships are like a warm and comforting hug. Family relationships are important because they help us grow mentally, feel well, and stay stable.
Discover below for some intriguing examples of why are family connections important and valuable for our emotional health.
They provide companionship during life's highs and lows, serving as a wellspring of memories that anchor us in uncertainty.
These bonds shape our sense of identity, values, and belonging, influencing our overall well-being.
Beyond their immediate impact, these connections play a profound role in shaping our sense of self.
They contribute to the formation of our identity, influencing the values we hold dear and the beliefs we carry forward.
The ties we share with our family members foster a sense of belonging, reminding us that we are part of a larger unit that cares for and supports us.
They have the power to uplift our spirits during challenging times and amplify our joy during moments of celebration.
The enduring presence of family relationships nourishes our emotional health, with a constant reminder of why are family relationships important.

Characteristics of a strong family
Studies show that a whopping 56.8% of teenagers see their family connections as really strong, while an impressive 34.6% think they're even better than that! Every family has its own special qualities, but the ones that stand out all share some interesting similarities.
Here are a few characteristics of a strong family mentioned below that can help you create a strong bond.
1. Open Communication Between Family Members:
A hallmark of a strong family is their ability to engage in open and transparent conversations. These honest dialogues form the bedrock of trust, allowing family members to express themselves without fear.
2. There Should Be An Equal Respect:
Recognizing and valuing each member's individuality is one of the key characteristics of a strong family. Mutual respect acknowledges that every family member brings a unique perspective, contributing to a rich and diverse family dynamic.
3. Make Deeper Connections Through Empathy:
Empathy is the ability to understand and share in others' feelings and it is a glue that binds families closer. It creates an emotional bridge, fostering deeper connections among family members.
4. Family Members Should Be Able To Adjust:
Good families can handle changes without falling apart. They're like flexible acrobats, smoothly moving through life's ups and downs. This ability to adjust keeps things peaceful when things shift.
5. Make Your Bond Strong And Create Memories:
Rituals and traditions provide a sense of continuity and togetherness. Whether it's a weekly family dinner or an annual vacation, these shared experiences create cherished memories and strengthen bonds.
6. Try To Resolve Conflict With Patience:
Strong families approach conflicts with patience and a commitment to resolution. They know conflicts are natural in any relationship, but prioritize understanding over winning, ensuring that harmony is preserved.
7. Be Supportive Towards Family:
A strong family creates an environment of unwavering support. This involves celebrating each member's successes, offering comfort during setbacks, and standing together through thick and thin.
8. Set Clear Boundaries Inside Your House:
Healthy family relationships involve setting clear boundaries while respecting individual needs. This ensures that personal space and autonomy are upheld, promoting a harmonious coexistence.
9. Encourage Personal Growth and Development Of Family Members:
Strong families support each member's aspirations and provide a platform for pursuing passions and achieving goals.
A strong family is a living example of the power of unity, empathy, and mutual support.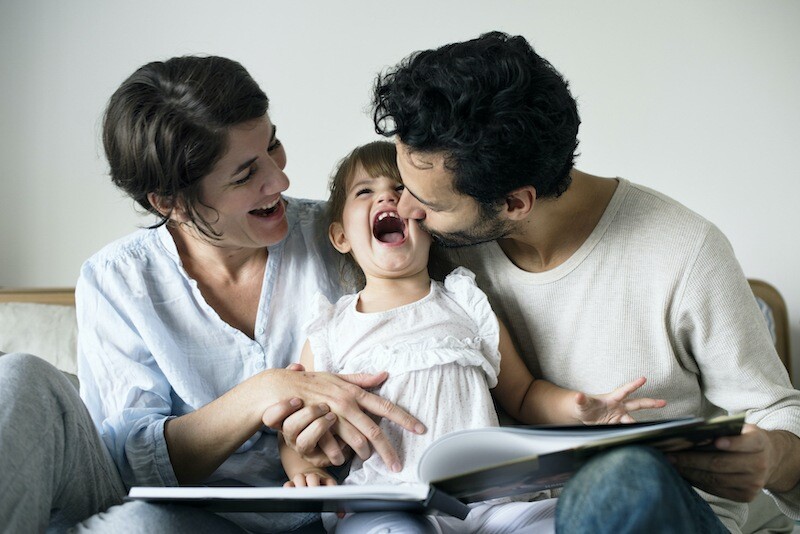 These characteristics of a strong family, not only create a loving home environment but also help to understand why are family relationships important.
How to Build Strong Family Relationships
The key answer to how to build strong family relationships is you have to understand why are family relationships important only then you can create an environment of love, happiness, and unwavering support that weaves a tighter bond among family members.
Since, how to build strong family relationships is a very important question to build a happy family, we will answer this properly, but there is a twist.
Building strong family relationships is like creating a compelling TV show plot with relatable characters and engaging storylines. Here's how you can do it:
1. Spend Quality Time:
Just like in a beloved TV series, spend quality time together as a family. Plan regular "episodes" where you do activities like game nights, movie marathons, or outdoor adventures. For example, the family in "Modern Family" strengthened their bonds by going on vacations together.
2. Proper Communication:
Encourage family members to share their thoughts, feelings, and concerns. Effective communication is key to happy family relationships, much like how characters in "The Gilmore Girls" express themselves openly. Hold family meetings or chats to ensure everyone's voice is heard.
3. Support and Encouragement:
In the spirit of shows like "This Is Us," offer support and encouragement to each other. Celebrate achievements, console during tough times, and provide a safe space for emotional expression.
4. Shared Responsibilities:
Just as characters in "The Brady Bunch" worked together as a blended family, assign and share household responsibilities. This teaches cooperation and a sense of belonging.
5. Respect Differences:
Embrace diversity within the family, much like "Black-ish" emphasizes. Recognize that family members may have different interests, beliefs, and opinions, and respect these differences without judgment.
6. Traditions and Rituals:
Establish family traditions and rituals, similar to the "Full House" family's iconic moments. These can be as simple as Sunday brunches, annual vacations, or holiday celebrations.
7. Don't Forget To Express Love and Affection:
Remind each other of your love regularly, like the Huxtable family in "The Cosby Show." Hugs, compliments, and expressions of affection go a long way.
8. Set Boundaries:
Establish clear boundaries within the family unit, just as the "Modern Family" does. Everyone should understand their roles and responsibilities.
9. Adapt and Grow Together:
Families, like the Dunphys in "Modern Family," should be willing to adapt to changing circumstances. Grow together, supporting each other through life's various seasons.
By following these "TV show" principles, you can create a captivating and harmonious family dynamic that stands the test of time.
Building strong family relationships requires ongoing effort and commitment from every member. These are some of the best answers to how to build strong family relationships.
By practicing these tips, families can create a foundation of trust, love, and support that strengthens their bond and enriches their lives.
Building and maintaining strong family bonds requires effort, communication, and understanding. It's important to cherish and nurture these connections because they play a vital role in shaping our happiness and overall quality of life.
Family is super important. They give us love and support, making us feel like we belong. But to keep these bonds strong, we need to talk, listen, and be nice to each other.
So, remember, family relationships are like a treasure, and we should take care of it because it makes us really happy!
---
Frequently Asked Questions(FAQs)
1. What are the most common family dynamics?
The prevailing family structure is typically the nuclear family, which comprises a married or cohabiting couple and their biological or adopted children residing in the same household.
2. How can family dynamics be improved?
Engaging in active listening by being receptive to various viewpoints during conflicts, showing genuine concern for the well-being and perspectives of family members, and acknowledging their opinions or needs, even when differing, are all examples of effective communication.
3. What is a healthy family structure?
Numerous shared characteristics can be found within thriving and content families. These encompass a sense of togetherness, transparent communication, parents serving as role models, proficient conflict resolution, and the establishment of explicit expectations and boundaries.